Court Surface Choices
All-Weather Competition Courts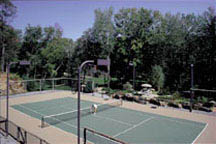 For ease of maintenance, nothing beats an all-weather fast playing court surface. Putnam offers several kinds: Putnam's Standard Trutex; the cushioned Putnam PermaTurf; and the celebrated all-weather surface, Deco-Classic, the same surface used at the U.S. Open. These all-weather courts, the favorites for championship level players, offer a long playing season and very little maintenance during the season. They require annual power washing and crack repair, repainting every 3–4 years and resurfacing every 7–9 years.
Other Surface Choices



Member of US Tennis Court and Track Builders Association
Putnam Tennis and Recreation, LLC.
PO Box 96, Harwinton, Connecticut 06791
If you're a Player, you play on a Putnam.
Please call Sales Manager, John Reidy
for sales and inspections, current prices
or to ask for our brochure.
1-800-678-2490
1-860-485-1567